Research - Passion for the brain

The research group of Prof. Kristina Friedland aims to better understand the pathophysiology of psychiatric diseases such as depression and Alzheimer Disease, to identify and design new compounds for the treatment of these diseases and to improve the pharmacological treatment of patients in the clinics. We focus on targets such as mitochondria, ion channels and G-protein coupled receptors. To achieve our goals we work together with colleagues from biochemistry, food chemistry, medicinal chemistry and medicine such as anesthesiology, pathobiochemisty or psychiatry. We use methods ranging from electrophysiology, calcium imaging, molecular pharmacology, mitochondrial respiration to confocal microscopy.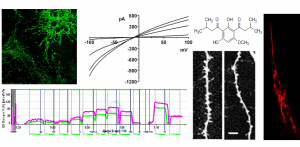 Research - Passion for prevention, adherence and drug safety
Besides molecular pharmacology, clinical pharmacology and working with patients is also very important to us as pharmacists. During the last years, we worked in different projects with patients in community pharmacies as well as in clinics. We showed that intensive pharmaceutical care improves drug safety and adherence in psychiatric patients. Our group was involved in testing the "bundeseinheitlichen Medikationsplan". In addition, we showed that a community pharmacy based training (GLICEMIA) strongly ameliorates prevention of type 2 diabetes. Therefore, we are currently working on improving type 2 diabetes progression in a community pharmacy based trial (GLICEMIA 2.0).
Please find here a german version.
Teaching - Passion for education

Special emphasis lays, also, on the education of undergraduate and graduate students, on lectures in and practical courses in pharmacology and toxicology as well as problem based learning in pharmacotherapy. We offer a special training in basic methods of toxicology to pharmacists and biomedicinal chemists. We aim to educate pharmacists, which are highly motivated and are enthusiastic about all facettes of pharmacy ranging from community pharmacy, pharmaceutical industry as well as science.